Quality
With our in-house production facility and innovative R&D department, we are able to produce the highest quality products for your future needs. CNC International is certified according to Cosmetic GMP DIN ISO 22716. GMP stands for Good Manufacturing Practices and is representative for our commitment to quality and excellence. As a manufacturer we suffice to the guidelines of GMP ISO 22716:2007 for production, control, storage and shipment and therefore belong to the world's best manufacturers.
CNC Internationals quality control ensures batch-to-batch consistency for all our professional nail products. Before shipping, each production lot is tested to ensure it meets the highest quality standards. Moreover, we are renowned in the professional nail industry for the superior quality of our products as well as our rapid turnaround.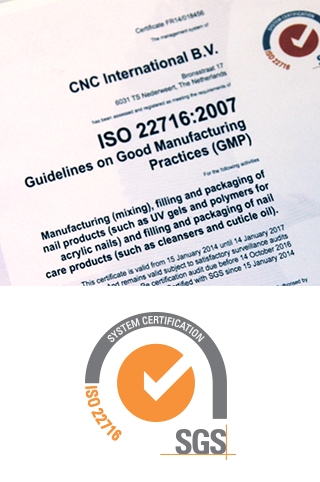 Official documents available
Due to an export to more than 45 countries in 5 continents our products are complying to all local requirements. For all our products we have Material Safety Data Sheets available upon request. PIP (Product Information Package) dossiers are available for review by Competent Authorities if necessary. For specific requirements such as the European Law for Cosmetic Products, our products meet 76/768/EEC and all amendments thereafter. This gives you the guarantee that all products are allowed to be sold and used in your country.
CNC International is the source for your total nail products. As an international manufacturer with a worldwide export we are familiar with the specific requirements of your country. We can provide you with all necessary files and documents needed. Thanks to our in-house production facilities we can cater to your specific needs. We are happy to discuss the possibilities with you.